PLANNING FOR YOUR LANDSCAPING, BUT NOT SURE WHERE TO START?
COMPLETE DESIGN AND INSTALLATION
Our professionals will work with you through the entire scope of your landscaping project from the initial 'idea meetings', to the development of professional designs, to installation. What to do the work yourself? No problem. We can develop the plans and you can do the installation. The plans will include detailed information on plant species and placement, material list, etc. Many of our homes are located in fire risk areas that require a fire-wise landscape. We use the latest research-based guidelines and recommend plant species best suited for these landscapes.
SOD INSTALLATION
If you are looking for an instant lawn, give us a call. We can handle all aspects of sod installation for you to site preparation, adding soil amendments, to sod installation. We source our sod from two local companies, Sod Works in Townsend and Summit Valley Turf in Whitehall.
LAWN SEEDING
Seeding a lawn can be an economic alternative to installing sod. We can handle all aspects of the seeding process for you to site preparation, adding soil amendments, to seeding. We source the highest quality seed mixes with species and cultivars that are best suited to your needs and the site's characteristics. Seeding is best done in the spring or fall, so make sure you get on our schedule. Check out this link for some comparisons on seeding versus sod.
LAWN RENOVATION
If your lawn is looking a bit tired, thin in spots, or has some pet damage, we can help. Our lawn renovation program includes some of the following practices depending on the lawn's needs: inter-seeding with a Kentucky Bluegrass and Perennial Ryegrass mix, core-aeration, top dressing with compost, leveling, or patching in new sod.
TREE/SHRUB INSTALLATION
Looking to plant one tree/shrub or hundreds, we can help. Purchase plants from a local nursery, or our own and have us plant it for you. We plant in accordance with the research-based recommended techniques, ANSI 300.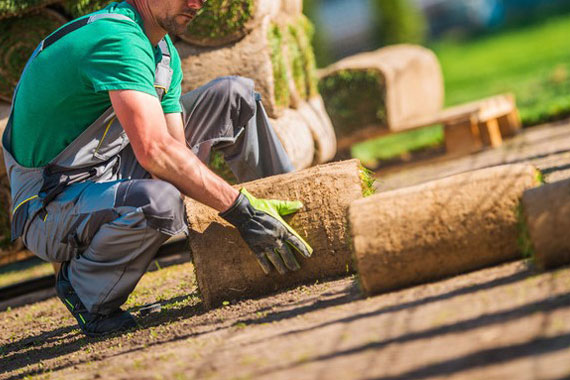 RETAINING WALLS
Building in the mountains can come with its challenges. Often times landscapes require retaining walls. We install all types of retaining walls. Granite rock and brick retaining walls are the most popular, but we can build them from wood and metal or a combination.
PATIOS AND DECKS
Often times the most used component of your landscaping is a patio or deck area. Let us design and build the outdoor space of your dreams. There are many different designs and materials to work with. Popular patio materials we have used on projects include concrete pavers of different sizes, textures and colors, or natural rock such as slate or sandstone.
EXCAVATION
Our landscaping department can assist you in your small-scale excavation needs, from tree stump removals, and rock removal to building site preparation.