holiday Décor Services, from rooftops to walkways with garland, wreaths, and bows, residential and commercial
Let your imagination and the professionals at Christmas Décor be your guide in turning your home or business into a festive wonderland of holiday cheer! Our trained and experienced team of professionals is committed to providing a beautiful holiday display and making your holiday season as enjoyable and safe as possible! Each hassle-free decoration package comes complete with:
• Custom Design and Storage
• Professional Installation
• Proactive Maintenance
• Takedown and Storage
rooflines
Add both height and depth through the use of fascia and ridgelines.
Window Lights
A signature design of Christmas Décor, when grouped they add horizontal balance and since they go right on the windows, they can been seen and enjoyed from the inside, adding to your interior décor.
Landscape Lighting
Lighting trees and shrubs is a spectacular addition to your décor and complements the roof lighting. Tree lighting can be with canopy wrap, branch wrap, or trunk wrap, or a combination of these. Shrub lighting adds both vertical and horizontal balance.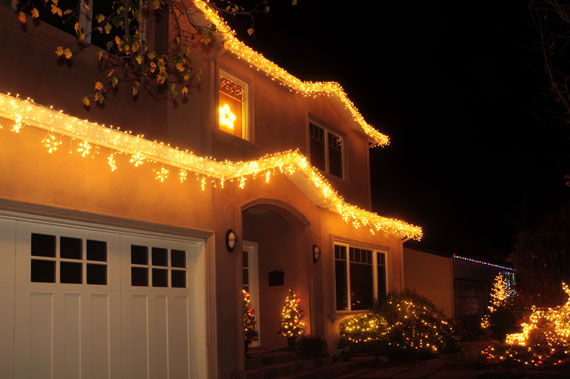 Ground Lights
They give the design a foundation and can highlight intricate flower beds or provide a warm, lit path to your front door.
Daytime Décor
Garland, wreaths, and bows add a festive daytime look and, with miniature lights added, will bring these decorations to life at night.